Billig schnell bauen temporäre vorgefertigte Flüchtlingslager Haus
Produktbeschreibung
Produktbeschreibung
| | |
| --- | --- |
| | Cheap fast build temporary prefabricated refugee camp house |
| | |
| | |
| | |
| | |
| | exterior steel door :860mm*2050mm;Interior sandwich door size: 700mm*2000mm |
| | |
| Pvc single glass sliding window | 880mm*1100mm; 800mm*400mm(figured glass) |
| | bedroom---plywood + laminated floor; bathroom---cement fiber board + PVC floor |
| | 5 lights, 3 switches, 4 sockets, one set of distribution box , One wash basin + one toilet + one shower roo m |
| | All steel members galvanized |
| | |
| | classroom, dorm, hotel, living house |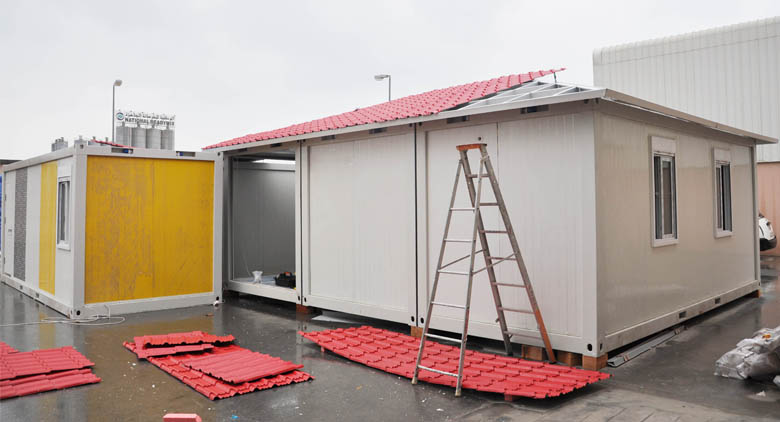 More Container House 
Introduction of the bottom of the container house
Frame made of Q345 steel board,  seamless bended, seamless welded, surface galvanized. Painted with 
anti-corrosive paints, laying materials: laminate board, PVC board, blockboard, cement fiber board etc.
Bottom serial
1.Standard laminate floor
2.Public Toilet bottom
3.bottom of the toilet in the middle
4.Standard PVC bottom
5.light steel keel bottom 
Introduction of the wall system
Consists of 0.42mm colored steel sheets on both sides or one 0.42 colored sheet and one 0.42mm stainless sheet, integrated with PU\EPS\ROCK WOOL etc. The size of the wall is 2310mm*1158mm. The thickness of the external wall is 75mm, and the internal wall is 50mm. The density of the EPS is 12kg\m³, the density of the rock wool is 100kg\m³. And the color of the wall is as per the clients' demands.
1. Standard wood pattern wall panel                         
2. Standard blue wall panel
3. Inner door standard wall panel
4. External door(steel security door)fitted with standard yellow wall panel
5. External door(steel security door)fitted with standard block pattern wall panel
6. External door(steel security door)fitted with standard blue wall panel
7. Window(PVC aluminium alloy window) fitted in the standard wall panel) size:800*1,100mm
8. Window(PVC aluminium alloy window) fitted in the standard wooden pattern wall panel) size:800*1,100mm
9. Bathroom ventilated window(PVC aluminium alloy window) together with exhaust fan being fitted in the wall panel. Size: 800*400m
Comtainer Home Installationsanweisungen
1.Put the chassis levelled,put the columns on the corner,align the holes for screws,screw from the upsides

2.Put the roof on the columns,align the holes for screws,screw from the downsides

3.Firstly install the long side wall panels, Lean the wall panels into the house

4 Fix all the wall panels

5 Install the internal decoration

6 Install the decoration rib on the roof

7.Install the baseboard
Fabrikansicht
 Our factory & Main Products have been verified by Bureau Veritas(BV)
Our factory is located in Shaoxing,Zhejiang,China; 25minutes from the Hangzhou International Airport 790minutes from Shanghai& Ningbo City.
150 employees including 30engineers and 35 senior skilled workers
Professional Frame CAD from New Zealand specializing in Light Steel Villas 
45000M2 building area,includes 2workshops 35000M2 total
More than 100 sets advanced production lines 
Capacity For Steel Structure Houses:100000M2
Capacity For Steel Container Houses:3000 units
Verpackung & Versand
  1.Checking
     Carefully check the shipping list. making sure no mistake.
  2.Packing
     Option one: a standard container house packed in one flat pack, 4 sets combined into one package. It can be shipped on board just as one 20' shipping container, The package will be protected by plywood boards around and thin film wrapped.
     Option two:  mixed packaging. Roof and chassis will be packed together with bolts; all the wall panels packed together with wooden pallet in the bottom, corrugated board on the surface, and XPS board in the interspace. It will be shipped in 40' container.
  1. Flat packs will be one package it can be shipped on board just as one 20 shipping container.
  2. Mixed packaging: top and bottom packed together with bolts, all the wall panels packed together on wodden pallet. wrapped by corrugated board on the surface. and XPS board between panels. The package it will be then shipped in 40' shipping container
Firmeninformation
Zhejiang Putian Integrated Housing Co., Ltd. Established in 2003,PTH is a leader in the Steel Structure industry.Certified by CE, BV IFA&ISO9001,We can design and manufacture all types of Steel Structure houses or buildings to suit your personal or business needs.We offer project support on any, or all phases of the steel design and detailing based on your project requirements. Providing consultation and delivery of a full range of steel structure design projects has recently opened retail showrooms in Toronto,Canada& Baharain and plan to expand into Australia,Europe,South Africa,Russia and the Middle East with many more countries to follow.Our 4S retail showrooms feature a full service network including:pre-sale consulting&design services,sales&shipment services,installation guidance services and most importantly after-sales customer support service.
1) Integrated base and roof, PU injected, excellent strength and tightness
2) 0.426mm color steel sheet for sandwich wall panel, strong and beautiful
3) All electric wires, water pipes, windows, doors and floor pre-setted, easy for assembling
4) Long time oversea project experience
5)  4S sales and service network, buy a house just like to buy a car
6)  Qualification: CE(DIN18800), ISO9001, BV
7) Durable, beautiful, economic and environmental
8) High Construction Efficiency (2 worker in one day for one unit)
9) Long life time (Max. 20 years)
Unser Team
FAQ
1. Bieten Sie vor Ort Installationsdienst an?
1) Nur große Projekte bieten Installationsleistungen an
2) Allgemeine Projekte, können wir Installationsanleitung Service basierend auf Kundenwunsch zur Verfügung stellen.
3) Installationsaufsichtsgebühr Standard: 150USD / Tag, Kunde sollte verantwortlich für die Reisegebühr, Unterkunft, Übersetzungsgebühr und sichert die Gesundheit und Sicherheit des Personals.
2.Was ist Ihre Lieferzeit?
Der Verkäufer wird die Zeit entsprechend bestätigen, der Großauftrag sollte im Voraus mit der Auftragsabwicklung kommunizieren. Normalerweise ist Lieferfrist 45days nach empfangen Ablagerung. Die Bestellung des Großauftrags sollte separat erfolgen.
3.How, um die Qualität Ihres Produktes zu kontrollieren?
ein. Qualität des Designs: über mögliche Probleme im Voraus nachdenken und eine hochwertige Designlösung bieten.
B. Qualität des Rohstoffs: Wählen Sie den qualifizierten Rohstoff
C. Qualität der Produktion: präzise Fertigungstechnik, erfahrene Arbeiter, strenge Qualitätskontrolle.
4. Umgang mit Qualitätsproblemen?
Die Garantie beträgt 3 Jahre. Innerhalb der Garantiezeit wird PTH für alle Qualitätsprobleme verantwortlich sein, die durch die Produktion verursacht werden.
5. Wenn es eine klare Lebensdauer Ihrer Produkte gibt? Wenn ja, wie lange
Unter konventionellen Klima und Umwelt, Stahlbau ganze Gebäude 10 Jahre, Hauptstruktur 15 Jahre, Schutzsystem 10 Jahre.
6. Welche Entwürfe haben Sie in verschiedenen Klimazonen (wie können die Produkte in verschiedene Klimas übernehmen)?
Starke Windregion: Verbesserung der Windwiderstandsfähigkeit der internen Struktur.
Kalt-Region: Erhöhung der Dicke der Wand, oder verwenden Sie gute Isolierung Material, verbessern Anti-Druck-Fähigkeit der Struktur.
Hochkorrosionsbereich: Korrosionsbeständiges Material verwenden oder Korrosionsschutzlackierung anlegen.
Produktgruppe : Container nach Hause > 20FT kombiniert